The movement to waterless and eco-friendly products is ongoing and remains a pretty controversial topic in the detailing community. EPA regulations that prohibit chemicals from entering storm drains is partly the reason, but many states like California have water restrictions which can make it difficult.
Today I'll share a few products without harsh chemicals found in some detailing products to add to your detailing arsenal or experiment with. It's always nice to have an eco-friendly package for wherever you're providing services.
That being said, here are 15 eco-friendly products ranging from shampoos to carpet cleaners to consider.
1. Steam Powered Cleaning Gun
Steam is a great eco-friendly alternative if you have sticky cupholders, dirty door jams, or are just tired of using harsh cleaning products that may (or may not) work.
Keep in mind these devices require air compressors to operate, but basically blast pressurized steam to clean carpets, seatbelts, and most other car surfaces you can think of.
The Tornador is the industry-standard device for this application and can be used with your favorite eco-friendly cleaners if you choose, Most are somewhere around $100, like this Tornador itself on Amazon.
Check out my post Why You Should Use Compressed Air for Auto Detailing if you are interested in learning how these work with compressed air.
2. Battery-powered cordless pressure washer
As opposed to electric pressure washers, one alternative that is great for basic rinsing is the Sun Joe SPX6001C-XR cordless pressure washer. If you are using a two-bucket method process for washing your car with minimal water, this is a great product to use just for rinsing.
It requires no power and uses a pump to generate pressure that is powered by a rechargeable lithium-ion battery. Perfect for light applications.
3. Chemical Guys Swift Wipe Waterless Car Wash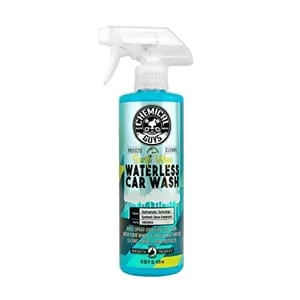 This is a product I reviewed in a post here, and is one of my favorite waterless products to use. It smells great and actually does a really nice job of leaving a shiny, waxy finish. I will say it does take quite a bit of product to wash an entire vehicle but is something to try out if you're new to waterless products.
It's pretty affordable and available just about anywhere.
4. Vapor Systems VX5000 Steam Cleaner
Steam cleaning is becoming a popular and chemical-free way to clean door jams, exteriors, seatbelts, and just about anything. It's also a great way to clean carpets.
For a car's exterior, you'll need something a little more powerful to remove dirt than a steaming wand (meant for carpets). Check out my post Steam Cleaning your Car's Exterior for more info and recommendations.
Pressurized steam is effective on maintenance washing and an eco-friendly and touch-free alternative to soap detailers are starting to offer.
5. Simple Green All Wheel & Tire Cleaner – View on Amazon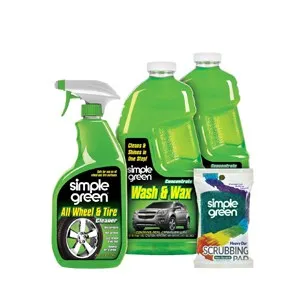 Simple Green is a great eco-friendly option perfect for cutting through brake dust, tar, and dirt on tires and wheels (and smells great too). It produces a nice foam that dissolves built-up dirt and is safe to use on any and all tires or wheels.
Aside from the fact that it's environmentally friendly, it's cheap and easy to find. You can usually pick this up at your local Walmart or Home Depot (or online).
6. Water containment mats
As a detailer, one of the best purchases to put your clients at ease is to pick up a water containment and reclamation mat.
These are pretty affordable, and as far as keeping water contained and out of storm drains, is a big must. These come in a variety of sizes are great for keeping chemicals off of your driveway.
Once you're finished, just suck up your suds with a wet/dry vac or a water reclamation vacuum.
7. H²Zer0 Waterless Car Wash Pack
If you're looking for a combo pack for detailing your car that includes a wash and wax soap, protectant, detailer, and wheel cleaner, look no further than this care kit by H²Zer0. This is one of the better eco-friendly products I've seen in terms of reviews and can be used on several different surfaces.
This kit also includes towels as well as gloves in addition to the 4 products themselves.
8. Sun Joe SPX3000 electric pressure washer
If you are looking for a clean generator for washing your car, this Sun Joe model is a great choice. It puts out 1.76 gallons per minute at 2030 PSI and is a good choice for most people.
Keep in mind if you are using foam guns or cleaning guns, you may need something a little larger to meet the minimum GPM requirements.
For beginners, I really like this model by Stanley on Amazon are both great choices in this category; Stanley's product quality is much better than so many out there.
9. Eco Touch Car Wash Shampoo
Eco Touch shampoo is tough on dirt and grime and safe to use on wheels and the exterior. This is one of the few shampoos both plant-based and non-toxic out there.
It's also eco-friendly all the way down to the packaging, which is made from 100% recyclable material.
10. Chemical Guys EcoSmart Waterless Wash and Wax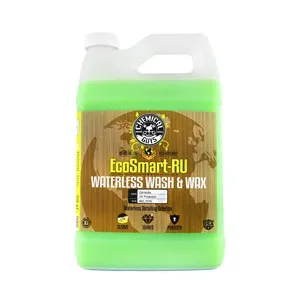 If you're into waterless car washing, this is another great option from the Chemical Guys. While the brand name may sound misleading, this product is 100% eco-friendly.
It contains carnauba wax from a Brazilian palm leaf and is more of an all-in-one wash and wax type of waterless product.
It also has great reviews on Amazon, and claims to use a proprietary natural formula that helps to lift and trap dirt particles using surfactants so you can remove them with a microfiber towel.
11. Adam's ECO Wheel Cleaner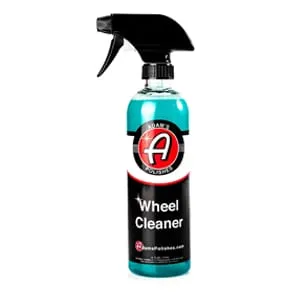 Looking for a basic wheel cleaner that is pH neutral and will not stain your rims with harsh acids? Look no further than Adam's Eco Wheel cleaner.
It also has a great smell, and a great product to add to your eco-friendly detailing arsenal; it comes in a 16-ounce spray bottle.
12. Adam's ECO All-Purpose Cleaner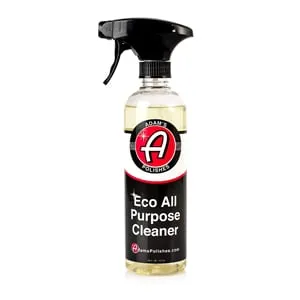 As a companion to the ECO Wheel Cleaner, this product is a great all-in-one cleaner that you can use for engine bays, wheels, and more.
Many Adam's products are available by the gallon so you can dilute them to the strength you desire; they also have great reviews, and offer a wide variety of products you experiment with.
13. SilverKLR Microfiber Towels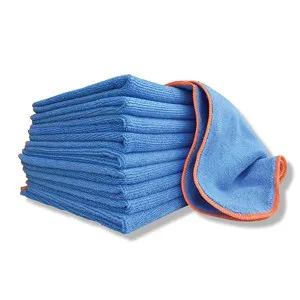 These microfiber towels are one of the best choices for sanitizing really dirty vehicles without harsh chemicals since they are embedded with EPA-approved antibacterial agents.
These have been tested to kill 99.99 percent of all bacteria, making them a great choice for detailers.
14. Vinegar
Believe it or not, vinegar is one of the more effective natural cleaners out there. Many people will dilute vinegar 50 percent with water to clean windows or remove odors. This is one of the better ways to clean windows streak-free if you are into using 100% green products. Just pick up an empty spray bottle for a few bucks, and mix up a solution with the strength that you need.
15. Eco Green Auto Clean
This company produces several waterless products that claim to be able to wash your car with one cup of water. This solution claims to wash an entire car with a single cup of water and is perfect if you live in an area with water restrictions due to drought.
Not perfect for all vehicles (like trucks that get muddy), but a good product for some.
Conclusion
Eco-friendly is essential for attracting most consumers these days, so consider mixing in some of these recommendations.
For more recommended products to add to your detailing arsenal, check out my recommended gear page where I break down a few favorites I've come across in recent years.