When it comes to renting a car that isn't yours at one of the major rental car companies out there, a common concern is whether or not you have to wash your rental car.
The answer depends on several factors, and in today's blog post, I will attempt to answer a few questions I've come across relating to this process so you'll know how to proceed.
Since most of the major car rental companies have specific policies around vehicle cleanliness on both the interior and exterior, I'll also summarize these policies.
When is washing a rental car required?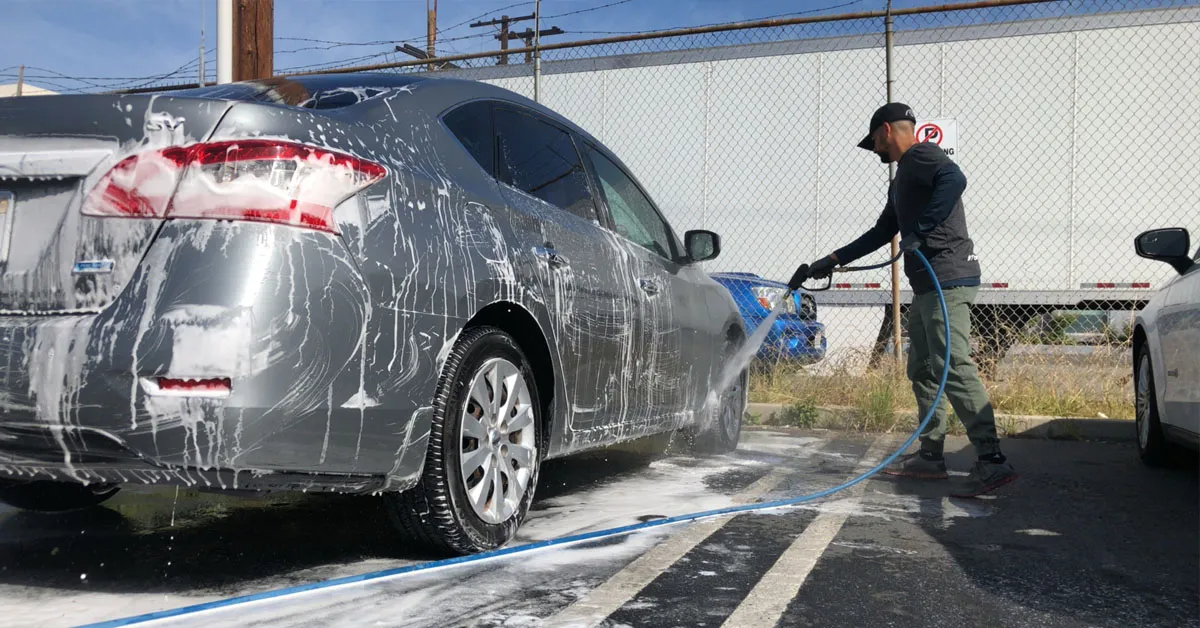 For most car rental companies in the United States, generally, you are expected to return a rental car in the same condition you received it. Some companies like Hertz, have updated their policy to reflect that you won't be charged an add-on cleaning fee unless your car is "excessively dirty".
What to do if your rental car is too dirty to return
If your rental car is excessively dirty with mud, running it through an automatic car wash is probably a good idea for most vehicles.
You don't want to hand wash a rental car to avoid scratching, and it's also best to avoid older car washes that use brushes. Any excessive interior mud, dirt, or pet hair is also worth removing yourself to avoid additional fees that most likely will exceed the cost of cleaning it yourself.
Do you have to clean the inside of a rental car before returning?
Under normal use, interior cleaning and detailing will be covered as part of your rental car agreement for essentially all major car rental companies.
If you have a long-term rental agreement in place (over 25+ days or so) some may prefer that you do this, so it's always best to check the terms before returning a car you've used for a while.
Cleaning and sanitation procedures for rental car companies related to COVID-19
When it comes to cleaning procedures, each company has its own policies in regards to how vehicles are cleaned.
Essentially all rental car companies will use a thorough 15 to 20 point inspection checklist that covers everything from steering wheels to dashboards and hand grips.
The chemicals used for the major rental car companies I did research on do follow the guidelines set out by the EPA CDC, or WHO. In addition, they also use certified disinfectants recommended by these organizations as effective against COVID-19 and other viruses.
What happens if you scratch a rental car?
If you happen to scratch a rental car, you will likely be on the hook for repairs, unless you purchase what's called a 'damage waiver' by rental car companies like Enterprise.
Should you scratch a vehicle (in this case), the damage waiver may lead to the rental company simply waiving the cost of repair, or reducing the amount you are obligated to pay depending on the rental agreement and damage caused.
While this is not insurance, you can always add this type of coverage in your car insurance policy in addition to or as an alternative to the damage waiver offered by rental car companies.
Should you repair a scratched or dented rental car yourself?
No. Repairing a scratch yourself typically breaches the terms of the rental contract. If you have an adequate personal car insurance policy to cover rental car damages, it's best to file a claim with them if you are at fault.
The rental company generally has agreements in place with local repair shops for more affordable volume-based rates that an individual wouldn't be able to expect. If at fault, the rental company will generally bill your insurance after the fact, to recoup some administrative and loss of use fees.
These sometimes can be disputed if the loss of use is found to be unreasonable.
The easiest option is to leave scratch removal to the professionals, and if you didn't purchase the damage waiver from the rental company, simply file a claim with your insurance company and allow them to handle everything on your behalf.
Comparing rental car company cleaning policies and procedures
As you can see below, several of the major players in the rental car space have similar policies relating to cleaning fees.
Hertz
Cleaning fees: Free, under what is determined normal use. $400 if otherwise
Disinfection policy: 15-point cleaning process as outlined by the CDC.
Smoking policy: No smoking allowed; $400 fee for vehicle cleaning using natural deodorizer
Pet cleaning policy: Pets allowed, but excessive hair or damage will result in extra charges
Source: Hertz.com
Enterprise Rent-a-car
Cleaning fees: Free, unless otherwise specified. An undisclosed amount will be charged to your account if necessary
Disinfection policy: Washing, vacuuming, general wipe-down, sanitizing with leading health authority requirements, using Clorox-branded sanitation products
Smoking policy: Smoking is prohibited; Cleaning estimates of over $500 USD may be charged to your bill
Pet cleaning policy: Pets allowed, but must be crated. Additional cleaning and detailing fee may be charged if necessary
Source: Enterprise.com
Budget
Cleaning fees: Free, unless any 'any stains, dirt, odor, or soiling attributable to your use' are unable to be cleaned with their standard cleaning procedure
Disinfection policy: EPA-certified decontaminants, with special attention paid to steering wheels, dashboards, and the standard inspection points
Smoking policy: Smoking is prohibited, with a cleaning fee up to $450, according to the website
Pet cleaning policy: Pets allowed, an undisclosed amount can be charged for excessive shedding or accidents
Source: Budget.com
Conclusion
In conclusion, as long as you return the car under normal conditions, you won't be charged an extra cleaning fee. Rental car companies use standard interior and exterior cleaning and detailing procedures with each car rented, so there's really nothing to worry about there.
It is a good idea to clean the inside or outside of a rental car if you suspect additional cleaning charges may be tacked on to your bill. However, in the event dings or scratches occur to your rental, you shouldn't attempt to fix it. Simply drop it off, and let your insurance company or rental company handle the rest.
Hope it helps! To discover a few pro detailing tips for yourself, check out this blog post I wrote 17 Interior Detailing Tips the Pros Keep a Secret.