When washing the paint on your car, you have a couple of different choices. The two traditional options are a sponges and wash mitts, but there are some brushes safe for car paint that many people use. Each have their pros and cons, but the important thing to understand is you must use these tools properly to avoid scratches.
Check out my post: Foam Gun or Cannon? Advantages, Soaps, & Recommendations for an easy way to apply soap hands-free (instead of with a mitt or sponge).
Keep in mind that mitts and sponges should be used with care, and always used with plenty of soap to avoid swirls and scratching. The soap really does all the work in breaking down dirt, so your mitt's job is only to release the soap and help guide the suds off the surface using very little pressure.
In this blog, I'll break down the differences between wash mitts, sponges, and brushes and give you recommendations for what type may work best for you.
Sponges – If You Must, But Not Recommended
Sponges are by far the oldest material that has been used to wash cars, but they're not great for clear coats. The reason sponges are usually a bad choice is the fact that they are flat, and can trap small rocks between this flat surface and your car's clear coat.
Since sponges are flat (and your car's surface is obviously flat), this tends to create a lot of friction between dirt, debris, and the surface of the sponge itself. Sponges also don't hold suds as well, which is important because you need proper lubrication at all times.
Another negative for using a sponge is the fact that they're obviously pretty easy to drop and get dirty. Dirt can get trapped in the pores of the sponge, leading to small scratches that cause swirl marks.
The best use case for a sponge – your wheels
There are use cases when you're probably okay using a sponge, and one of them is on wheels. They make several sponge wheel brushes (with handles) that make it easier to maneuver in tight spaces where brushes have a hard time.
While there are dozens of wheel brushes, some of these sponge brushes conform to the shape of the cracks and crevices quite well.
Another rectangular type of sponge you may have seen are called wheel sponges. These are smaller and slightly textured, which helps them remove stuck on tar and other substances.
Why Wash Mitts are the Best Choice for Paint
In a very basic sense, one of the advantages of using a wash mitt over a sponge is the pile. Especially with Chenille Mitts as pictured below, these are perfect for removing dirt while minimizing the chance that your clear coat will be damaged.
One of the reasons is because there is more of a buffer between the lining of the mitt and the surface of your car. Chenille mitts have caterpillar-like strands that create less friction and make it easier to pick up the dirt instead of slide it around (potentially leading to scratching).
Microfiber is designed to lift dirt particles, as opposed to a sponge that dislodges dirt and slides it around, potentially scratching or leaving swirl marks.
Mitts do come in a variety of types and piles, and most are made of either microfiber or some sort of wool.
Selecting the Right Wash Mitt – A Few Recommendations
There are a couple of different types of wash mitts, but some are better than others at removing dirt and other debris on your vehicle. Here are a few recommendations to keep in mind if you are thinking about switching to a wash mitt:
A long lasting favorite: Chenille Microfiber Mitts
These are by far the most popular I've seen, and for good reason. These caterpillar-like fabric fingers are ideal for holding suds, and also provide an uneven surface for removing bird droppings and other substances (that aren't baked on), but may require a little more agitation to remove.
They do make cuffless chenille mitts or wash pads (with no cuff). This is great if you're worried at all about the cuff potentially marring your paint. As long as you're careful, you don't have much to worry about, you just want to keep the elastic cuffs off the paint.
I tend to get clumsy at times washing, so I'd rather have something attached to my hand.
Great for frequent car washers: Wool wash mitts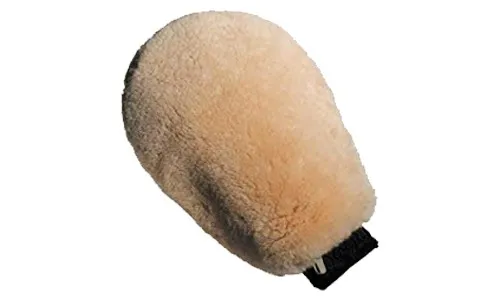 If you keep a relatively clean car, lambswool wash mitts as pictured above (or Merino wool mitts) are preferred by some detailers because they are really soft and hold a ton of suds. They are usually more expensive and relatively difficult to keep clean, so it's really a matter of personal preference.
The Merino wool mitts are a bit softer and have longer fibers (like hair) to sweep over smaller dirt particles.
Lambswool is typically a much tighter wool weave. If you want the best of both worlds they make a half sheepskin, half Merino wool wash mitt here on Autogeek that you can check out.
Many of these mitts are actually microfiber synthetic 'lambswool' mitts nowadays because they last a little bit longer. You really can't go wrong with microfiber.
Great for paint, bugs, and everything: 4-in-1 mitt
If you need a good multipurpose mitt for cleaning off stuck-on bugs, but also need something you can wash your entire car with, check out this 4-in-1 mitt by Chemical Guys on Amazon. For the average car owner, this is a pretty good multipurpose mitt to use as long as you keep it clean.
If you get tired of lugging around multiple wash mitts, bug sponges, and brushes, this just might be the product for you.
Top Overall Performer: Microfiber Madness Incredimit
This mitt is a favorite among many auto enthusiasts in the detailing community. It's really a hybrid between a soft lamb's wool mitt and a chenille microfiber mitt. Being microfiber, it washes up well but has the softness that you really want in a good car wash mitt.
This one is a bit more expensive than most, but a good investment if you really want the best wash mitt on the market.
Using a Brush on Car Paint
There are several brush types in the detailing world, like interior brushes and stiff tire brushes, and sometimes it makes sense to use one. On the market, you'll usually find nylon (not great) and boar's hair brushes that technically can be used to wash your car's paint.
While I would not recommend using a brush for most people, they are nice to have if you have a larger vehicle, SUV, or a camper.
Boar's Hair Brushes
Detailers usually stay away from boar's hair brushes on paint, which is understandable. 100% clean boar's hair brushes (with softened bristles) that are well-lubricated with soap should be fine for any surface, the problem is that these brushes can be pretty difficult to keep clean.
High-quality mitts on the other hand, are pretty foolproof (especially using a two-bucket system), but brushes take some extra time to clean. It's also important to soak these, which is why for mobile detailers it's really not best practice to use them on painted surfaces (unless you specialize in cleaning campers, etc).
Time is money, and they are just a lot more difficult to keep clean.
You also never want to use a boar's hair brush at a car wash, because they are left on the ground and never rinsed properly. If you have an expensive car, I definitely would just use a mitt since they are much easier to clean than brushes.
When I Use Brushes on Paint
While I personally don't use brushes on visible paint sections, I do use one (with a handle) for reaching the roof and hard to reach areas.
For cleaning a truck's toolbox and other parts of larger vehicles, they are really nice to have as long as you clean them properly.
Boar's hair brushes come in a lot of different varieties, and some are designed to use on tires. These are great for the outside (flat) part of your wheel. Some people use a dedicated wash mitt to clean the surface of a wheel, but a small boars hair brush can make it easier for some surfaces.
Conclusion
Overall, any of these wash tools when used improperly can cause scratches or swirls. It really comes down to personal preference and how forgiving each tool is. For show car owners, lambswool mitts are probably the most forgiving and softest when cleaned well, but microfiber is really close.
If your goal is to wash a large vehicle, maybe opt for a jumbo wash mitt. If you have a winter beater or old truck you just want to clean quickly, it might make sense to use a brush.
It comes down to your dedication to minimizing scratches, how much time you want to spend, and what you are comfortable using. Hopefully you now have some ideas for what to use next time you wash your ride.
Just getting started in auto detailing? Get your free eBook 25 Essential Auto Detailing Products for Beginners.