If it's too cold outside or maybe too hot outside there are times where it may actually make sense to wash your car in your garage.
Keep in mind that you do need to be aware of the risk of mold forming (or a general musty smell),  but with a few product and tips it's actually not that difficult to safely wash in a garage.
In this blog post, I'll lay out 8 tips for washing your vehicle in a garage, and a few products that are really nice to have.
1. Waterless wash products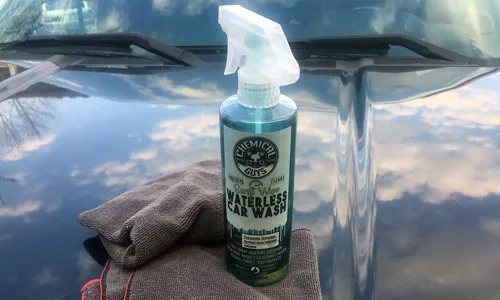 For times when your vehicle may have a slight dusting of dirt on the hood, a spray-on waterless wash product is a great product to use for this application. I generally use Chemical Guys Waterless Wash for this application that I reviewed here, and have had great results.
While some people may use these types of products to wash their vehicle every time, they are really designed to be used in between washes on not on heavy mud or dirt.
These do have quite a bit of lubrication built-in in order to avoid scratching, but in general work best to just touch up areas you may have missed with the hose.
You technically can use this product on the entire vehicle (as long as it's not too dirty), but based on my experience it can require the entire bottle for larger vehicles like trucks.
2. Rinseless wash products
With a rinseless wash product like Optimum No Rinse, you can actually wash the entire vehicle rather easily by applying this product using a bucket and water.
Rinseless wash products differ from waterless products that you spray on, because with rinse-less products like ONR you actually do need to dilute this solution with water. Some people use a two-bucket method for this, where on bucket contains the diluted product with water, and the other is for cleaning the mitt before re-dipping.
While you still need water in a bucket (or sprayer) to dilute this concentrated formula, it's a great method for washing in a garage or shop.
With a rinseless concentrate, have a little more freedom to apply more water to your vehicle's panels than a traditional spray-on product, so generally this method is safer due to the natural lubrication properties of water.
3. Epoxy flooring
If you haven't applied a good epoxy to your garage floor, it really can help keep you comfortable when cleaning wheels, but also repels water quite well. This definitely comes in handy when washing in a garage, since bare concrete can absorb water like a sponge.
Most of these coatings don't require a professional to apply, but it's still not a bad idea if you want to make sure it is installed properly.
If you don't already have one, a detailing cart can really help stay organized, and a few like mentioned in this post, even have seats and bottle holders.
4. Proper ventilation and a drain
Whenever working in a garage with water, it's a good idea to always have proper ventilation. Whether that's a shop fan or some kind of vent, you want to make sure mildew and mold don't form as a result.
Using a dehumidifier
Picking up a basic dehumidifier can also help to keep your garage smelling fresh, especially if you live in a subtropical region where mold may be more of a problem.
Installing a drain
Installing a drain for your garage is a great idea as well, whether you install a couple of drains inside the garage, or at the entrance. These longer drains are called trench drains, where water can enter the drain from your garage AND from the driveway, meeting at the entrance.
You can retrofit your current garage for this type of system, but it definitely is a feature to look for if you are building or moving.
Quick Tip: As a last resort, keeping the garage door open is a good idea to let things air out.
5. Plastic wall panels to protect sheetrock
Another option I've heard about is to install a couple of plastic 4 x 8 foot waterproof panels around the perimeter of your garage to help protect your walls from splashing water.
These can be installed permanently to your existing garage if needed. As a last line of defense, painting your garage with a water repellent paint like Drylok you can pick up here on Amazon is a great choice.
6. Detailing canopy with side walls
While most detailers use canopies outdoors on occasion (when detailing vehicles in extreme conditions), they also come in handy when washing your car in a garage if you have the room.
The main reason is because you can purchase sidewalls that zip together. These provide a barrier that can help to protect your garage walls.
If you have a spare tarp, this is also a good accompanying product to use when setting up a canopy or tent.
This Eurmax 10 x 10 ft. package on Amazon I really like for this detailing application, but here a few more of my recommendations if you are in the market (for interior or exterior use).
7. Floor Squeegee
If you have a drain in your garage (or even if you don't) a floor squeegee like this one on Amazon is a must-have whenever you're using running water.
Something basic like this is all you really need for pushing any standing water coming off of your car to the outside or into a drain.
8. Good shop lighting and detailing lights
A good set of shop lights or auto detailing lights is a must if you're need to apply wax or do anything at night.
It's a good idea to start with overhead garage lights ~5000k that mimics daylight, but for detailing specifically ScanGrip makes an excellent line of lights that are designed for detailing and paint correction that most pros recommend.
Check out my post on 5 Simple Lighting Setups for Detailing for a couple of options you may want to consider for detailing in your garage.
Conclusion
Overall, there are situations where washing in the garage can make sense, especially if you live in a region where it is extremely hot in the summer.
It starts with the right equipment, but washing in the garage can be a great option for situations where washing outside isn't an option.
As long as you have good ventilation and a drain, you should be okay most of the time for preventing mildew and mold which is always something to be mindful of.
Since waxing, applying polish, and cleaning out the interior are activities that you can (and should) do in a garage if you have one, many of these products are worth picking up regardless.
Have any other tips that have worked for you? Let me know! You can also sign up for the Carwash Country email list for free tips just like this delivered straight to your inbox.